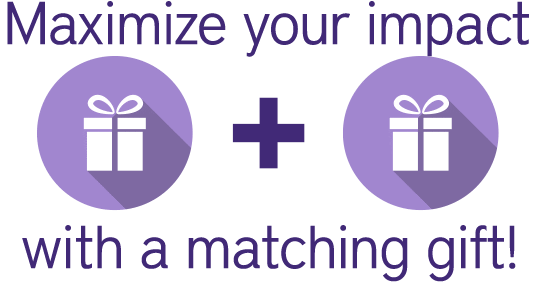 Did you know that many companies will match any personal contribution you give to the choir?
If you or your spouse work for a company that has a matching program, your donation could make double impact.
​
Below is a list of just some of the companies that have matching programs.
Don't see your company?
Just contact us and we'll be happy to do the legwork for you!
The following companies will match employee donations
contact us to receive the appropriate forms
3M Corporation
Abbott Laboratories
Administaff
Adobe Systems, Inc.
ADP
ADT Security
Advanced Micro Devices
Aetna Foundation
AIG
Alexander & Baldwin
Alliant Energy
All State
American Express
Ameriprise Financial
Amgen
Aon Corporation
Apple
Applied Materials
AOL, Inc.
Aspect Software
Aspiriant
AT&T, Inc.
ATMI
Autodesk, Inc.
Autonomy, an HP Corporation
BAE Systems
Banana Republic
Bank of America
Becton Dickinson & Company
Best Buy Company, Inc.
Billiton Petroleum (BHP)
Birkenstock
Blue Shield of CA
BMO Harris Bank
BP Foundation
Boeing
Bristol-Myers
Broadview Security
BTW Consultants
Business Wire
C.B. Fleet
Cadence Design Systems
California Endowment
California HealthCare Foundation
Calpine Corporation
Carmax
Capital Group Cos.
Carnegie Foundation
Caterpillar Corporation
Chase (JP Morgan)
Charles Schwab Corporation
ChevronTexaco
Chubb & Son, Inc.
Cisco Systems, Inc.
CitiGroup
Clorox Company
Coca-Cola Foundation
Colgate-Palmolive
Compton Foundation
ConocoPhillips
Costco
Covidien
CVS
David & Lucille Packard Foundation
Del Monte Foods
Dell Corporation
Deutsche Bank Americas
Diageo
eBay
Electronic Arts, Inc.
Emerson Electric
Ericsson, Inc.
Ernst & Young
Exxon
ExxonMobil
Fair Isaac Corporation
Fannie Mae
First Data Corporation
Flora Family Foundation
Fremont Group
Gannett
Gap, Inc.
Gartner, Inc.
Genentech, Inc.
General Electric
General Mills
General Motors
Gen Re Corporation
GlaxoSmithKline
Google
Gordon & Betty Moore Foundation
Grainger
Henry J. Kaiser Family Foundation
Hewlett Packard
Home Depot
HSBC Bank USA
IBM Corporation
Illinois Tool Works
Insperity
Intel
International Data Group
Intuit
Itochu Technology
JP Morgan Chase
James Irvine Foundation
Johnson & Johnson
Johnson Controls, Inc.
Juniper Networks
Kaiser Permanente
Kaplan, Inc.
Kimberly-Clark
KP Corporation
KPMG
Lam Research Corporation
Liberty Mutual Group
Lincoln Financial Group
Levi Strauss
LVMH
MacDonald's Corporation
Macy's, Inc.
MasterCard International
Marin Community Foundation Maritz, Inc.
Mattel
McGraw-Hill Cos.
Merck & Company
Medtronic Volunteer Grants
Merck
Merrill-Lynch
MFS Investment Management
Microsoft Corporation
Monsanto Fund
Moody's Corporation
Motorola Mobility
Motorola Solutions
Morrison & Foerster
Nokia
Norcal Mutual Insurance
Northern Trust Company
Northrop Grumman
Novartis US
Office Depot
Old Navy
Oracle Corporation
PepsiCo
Perkin-Elmer
Pfizer
Piper Jaffray
Prudential
Qualcomm Inc.
Quest Diagnostics
Real Networks
Redbox
Roche Diagnostics
Rockefeller Foundation
Rockefeller Group
Rosendin Electric
S.H. Cowell Foundation
Sabre Holdings
Salesforce.com
Sam's Club
SanDisk
San Francisco Foundation
SAP Inc.
Shaklee
Sherwin-Williams
Siemens
Sony Electronics Inc.
Sprint
Starbucks
State Farm Insurance
Stuart Foundation Symantec Corporation
Synopsys
T. Rowe Price Group, Inc.
Tellabs
TE Connectivity
Tenet Healthcare
Texas Instruments
Thomson Reuters
Time Warner
Tiffany & Company
Travelocity
Tyco International
UBS
Unilever US
Union Bank NA
Union Pacific
United Technologies Corporation
UPS
Verizon
VF
Visa International
Waters Corporation
Walmart
WellPoint Foundation
Wiley & Sons, Inc.
William & Flora Hewlett Foundation
Willis Lease Finance Group
Workday
Wyeth Pharmaceuticals
Xcel Energy
Xilinx
Yahoo!
Don't see your company?
Just contact us and we'll be happy to do the legwork for you!