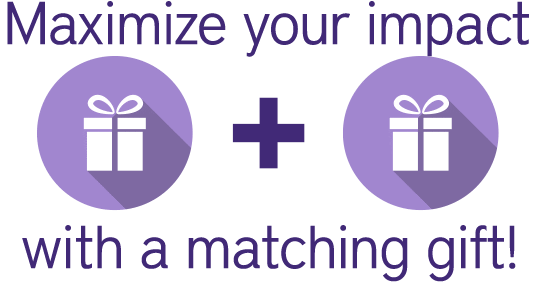 Did you know that many companies will match any personal contribution you give to the choir?
If you or your spouse work for a company that has a matching program, your donation could make double impact.
​
Here is a list of just some of the companies that have matching programs.
Don't see your company?
Just contact us and we'll be happy to do the legwork for you!
1/6
The daughter and granddaughter of singers, Brenda (she/her/hers) has been singing in school, church and community choirs since childhood. She joined MPCS in January 2017 and has been serving on the Board of Directors since September 2017. As a person who believes passionately that making music is vital for individual and communal wellbeing, she is delighted to be helping MPCS and East Bay Peoples Choir to build community and make beautiful music together. When she's not singing with MPCS, Brenda serves as the Associate Pastor of Niles Discovery Church in Fremont.
Glennda (she/her) joined the MPCS tenor section in 2017 and became a board member in 2020, where she now serves as secretary. Her previous singing experience ranges from singing way too loud in church as a kid (or so she is told) to singing with the La Peña Community Chorus in Berkeley and the Niles Discovery Church Choir in Fremont. An East Bay native, she has degrees in biology from Cal State Hayward and journalism from UC Berkeley and makes a living writing about science. She loves to garden, read, hike, cook and hang out with her cat, Chucky.
Carola (she/her) is an Italian engineering seismologist with extensive ground-motion characterization experience. Her passion for designing resilient structures is paired with her desire to build strong communities through music and foundational society values. Since joining EBPC/MPCS in 2019, she has been supporting the organization's Steering Committee, public outreach, and concert logistics. Outside of the choir, she sings her way across multiple volunteering engagements in the community, involving an Italian cultural club, a Fremont-based cat rescue organization, and her kids' soccer and swim teams. Fun fact: Carola sang blues songs even before learning how to speak English!
Jason joined MPCS in 2019 and became a board member in 2021. He has masters' and bachelors' degrees in history from Cal State East Bay, where he was a founding member and vice president of the Student Historical Society. Jason started singing in choirs at a young age. He joined Cal State East Bay's Oratorio Society while still in high school and sang with them for seven years. He has also sung in several of Eric Whitacre's virtual choirs. His newest endeavors include planning to purchase and operate a laundromat and studying to become a real estate agent and notary.
David (he/him) is an at-large member of the board and currently serves as the membership and music coordinator. He joined MPCS, previously known as Ohlone Chamber Singers, in August 2004. When the group moved away from Ohlone Community College in 2013 he served on the founding board of directors as secretary, and has served on the board, on and off, ever since. Prior to singing in MPCS, David has sung in the San Jose Symphonic Choir and in the University Singers and Chambers Singers ensembles at Cal State University, Hayward while obtaining a bachelor's degree in history.
Alfin (he/him), a graduate of UCLA with a major in Economics, joined the MPCS choir as an EBPC member in 2022 and took on the role of treasurer in 2023, where he combines his financial acumen with a passion for music, ensuring the choir's (financial) harmony. While Alfin's singing experience may have humble beginnings - primarily confined to his bathroom serenades - his enthusiasm to expand his musical horizons have enabled him to blend in with (and occasionally sneak in unsolicited one-note solos to) the choir's tenor section. Beyond the choir, he finds joy in exploring the outdoors through hiking and indulges in his love for culinary adventures, often singing along while whipping up delectable dishes. In Alfin's world, the numbers may add up, but the music adds soul to his life.
Diana (she/her) joined EBPC in 2019 and became a board member in 2022. She has been in children's choir since second grade and continued to sing in school choral groups until college. After spending more than 30 years working and raising children, she wanted to go back to the activity that brought her tremendous joy in her youth – singing. When she is not singing with the EBPC or taking Tai-Chi classes, she enjoys reading, gardening, hiking and traveling.